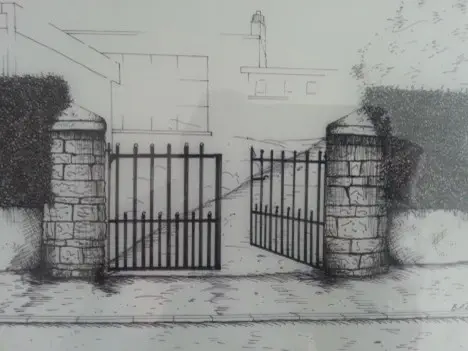 In 1858 a group of local families came together with the intention of setting up a school for their children. A suitable building was needed. They approached Lord Howth, who offered them an old shooting lodge in the towns land of Hedgestown. Thus Hedgestown school began. Later in 1860 the school became part of the National School System and became known as Hedgestown N.S. The original Irish name was Baile na Sceacha, a reference to bushes or hedges. Later the name was changed to Baile Falbhach, referring to the hill on which the school is positioned. This is not obvious now but in 1976 the school sloped down to the main road. In 1945 a new building, the one on the right as you look at the school was built. This was built as a prototype for all small schools. In 1967 a second room was added. It existed as a two teacher school until 1991 when a prefab was put on site to cater for the growing number of parents wishing to send their children to our school. Later a further three prefabs were added to cater for another classroom and Learning Support and Resource Teaching.
Today the school has six teachers and three Special Needs Assistants. There are 80 pupils attending.
In 1996 an application was made to the Department of Education to modernise the school. After much work by the previous principal Mr. Edward Kirk and the various Boards of Management an eight classroom school is being built on a 3 acre site next to the school.